Kizzie has passed her Kennel Club Good Citizen Silver Award
Jaxx and Kizzie genetic results both DM CLEAR and PD CLEAR - both are UK DNA Certified
Anchaz Kizziemas hip and elbow results Hips 4:5 Elbows 0:0
Anchaz Jaxx and Anchaz Kizziemas both pass their KC Good Citizen Bronze award
Anchaz Jaxx passes her BH temperament test
Anchaz Jaxx's health tests are here........... Hips 4:2 Elbows 0:0 and Anchaz Jorah Hips 6:5 Elbows 0:0
BB last litter have been born with Sable Males available to the right homes.
The Anchaz J Litter have been born and all are reserved
Vonloi Amigo mit Anchaz - Zeek has passed his IGP2 working qualification
Vonloi Amigo mit Anchaz - Zeek has passed his IGP1 with great scores
Our show was a big success this 2018 so we are holding a bigger and better one in 2019. GSD Classes, Pedigree Classes and Novelty Classes - all information can be found
here
Samphils Bianka at Anchaz has gained her IPO1 working qualification.!!! Well done BB
Cobby dog will also be sponsoring our Rally in August see their website at https://www.cobbydog.com/
Gilbertson & Paige have kindly offered sponsorship in food prizes for the rally in August
The Anchaz GSD Rally is back with a new venue see all the information on our page in the menu on the left here
Well done to Nat and Luna for gaining their Good Citizen SILVER award
Both BB and Zeek have passed their temperament tests giving them both BH in their titles
Vonloi Amigo mit Anchaz has completed all his health tests and is now confidently offered at stud
BB - Samphils Bianka at Anchaz has successfully completed her endurance test
Cinna gains her first reserve ticket at East of England champ show, thanks to judge Christina Chapman for giving her just what she deserves
well done to the E litter owners at the Walcss lincs rally - 3 pups all in the placings with Anchaz Excalibur taking reserve best long coat puppy in show
The amazing Anchaz Cinna takes BEST OF BREED at Darlington Championship Show
August bank holiday Cinna took Best of Breed at Leics city canine society
Samphil's Bianka - Bea has had her hip score back and so please with the result - hips 5:6 and elbows 0:0
The Anchaz E litter has arrive - 6 boys and 1 girl - see for-sale.php for full details
Anchaz Cinna takes Reserve Best of Breed at Eastwood Kennel Association thanks to breed judge Suzie Barnes
Anchaz Cinna takes Best of Breed at Wellingborough open show thanks to breed judge Dave Miller
Anchaz Cinna will be part of the Stunt Dog team at Crufts doing demos everyday on the Arden Grange Stand
Anchaz Cinna takes Reserve Best of Breed at Wath and West Melton Canine society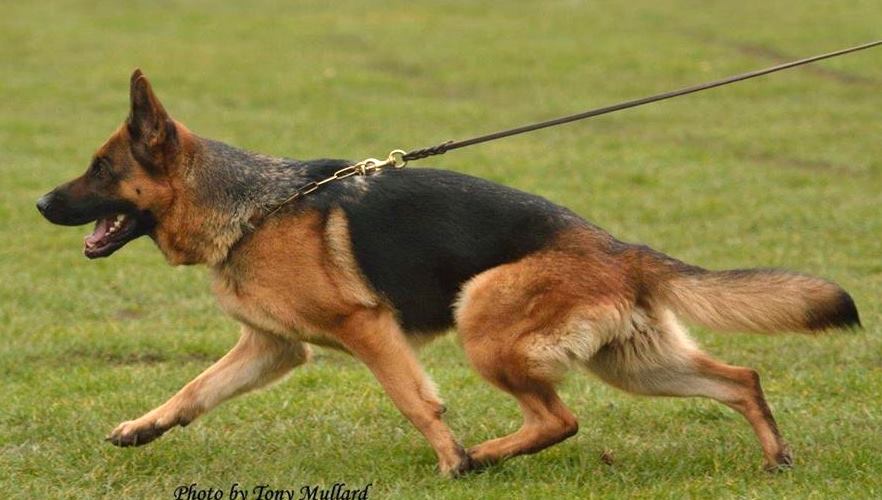 Anchaz Cinna takes Best of Breed at Litchfield Canine Society
Anchaz Cinna takes Best of Breed at Cheltenham open show
Anchaz Balto - Hardy and his owner Claire Townsend have won into grade 6 in agility. Well done team
Angie has gained B list status for judging GSD's and also B list for Kooikerhondje. Currently on the C list for Australian Shepherds and Pyrenean Mountain Dogs
Anchaz Cinna takes Best Bitch at Windsor Champ Show - thank you to breed specialist Kaye Whiittingham
We are please to welcome Samphil Bianka aka Bea to the Anchaz family. See her progress here
In conjunction with Arkashan GSD we are pleased to announce our next litter due at the end of the year. See here for details.
See Cinna's new page on the stunt dog website http://stuntdogs.net/casting/cinna-german-shepherd/?portfolioID=13
Anchaz Cinna gained a very respectable 2nd place in Limit Bitch at Southern Counties Championship Show - qualifying her for Crufts 2015 and Uma (Anchaz Dyamond) also qualified with gaining 3rd in Post Graduate Bitch
Angie judged the GSD's at Wellingborough open show 2014 and was very pleased to see her BPIB not only take the pastoral puppy group but then won Best Puppy in Show under esteemed judge Frank Kane
Our little star Anchaz Cinna has gained her kennel club good citizen gold award and her Breed Survey Class 1
Anchaz Diablo has gained 2nd place in his first ever show - well done Cooperman
Well done to Clare and Anchaz Balto 'Hardy' for WINNING into group 5 agility
Anchaz Cinna takes Pastoral Group 1 at Bolton open show
Anchaz Cinna takes Pastoral Group 1 at Alfreton Canine open show
The 2014 rally was another great success and thank you to all who exhibited - especially the working dogs. Huge thanks to our judge, Netty Kirby, and man-work helper and to all my friends and family who helped on the day. Pictures are on the rally page. Ensure you check out the details for 2015 and put the date in your diary.
Congratulations to Julie Donnelly for achieving Kennel Club Silver award with her Anchaz puppy - Harley
Anchaz Dyamond - Uma got her Kennel Club Good Citizen Bronze award but our angel Anchaz Cinna received her Silver award - very well done ladies.
The Anchaz GSD rally 2013 was a great success and we want to thank our breed judge Kim Powdrill for an excellent job, but also all our helpers who made it an excellent day.
We are currently compiling/holding a list of progressive up and coming German Shepherd judges that are all available for appointments. Any club secretaries please feel free to contact us for this list.
Anchaz Cinna takes 2nd place at the 2014 Southern Counties Champ show in a very strong Limit Class and qualifies for Crufts 2015
Anchaz Dyamond - Uma takes Best puppy in Breed and pastoral puppy group 2 at West Torrington & District Canine Club open show.
She has now followed up that success with a 3rd place at the Southern Counties Champ show (2014) and qualifies for Crufts 2015

Anchaz Dyamond takes Best Puppy in Breed at Cheltenham and District Canine Society
Anchaz Cinna got Best of Breed and Pastoral Group 3 at Newark Canine Society
Anchaz Dyamond (Uma) got 3rd at her first Championship show qualifying her for crufts 2013.
Anchaz Dyamond (Uma) got a very respectable 2nd place in her very first show - being just 6 months old on the day. She showed like a pro. We are very proud of her.
We will be holding a GSD rally 6th May 2013 complete with a working class including bite work and off lead gaiting. Also a good citizen bronze test provided by Midland Counties All Breed Club. See the rally page for full details.
Anchaz Cinna has qualified for Crufts 2013 - gaining 2nd place in Darlington Champ show under judge Heather Corkin
Thank you to Sarah and Kelsa for taking Jed to Birmingham Champ Show and successfully winning Veteran Dog
Well done to Brodie - Anchaz Charisma for yet again qualifying for Crufts
ANGIE JUDGED THE GERMAN SHEPHERD CLASSES AT THE GED WALKER MEMORIAL DOG SHOW 9th SEPTEMBER 2012 AT WEST PARK LONG EATON.

A SUCCESSFUL FIRST HALF OF 2012 WITH CINNA TAKING SEVERAL BEST PUPPY IN BREED AND A PASTORAL GROUP 3
LEXI HAS HAD BEST OF BREED AND PASTORAL GROUP 3
BRODIE FROM THE C LITTER QUALIFIED FOR CRUFTS 2013 - WELL DONE TO HER OWNERS KELSA AND GLEN
JED WON BEST VETERAN IN SHOW - 2 WEEKS RUNNING - AT DERBYSHIRE GSD AND MIDLAND COUNTIES IN JULY 2012

'Some of Recent Year's Show results
3 of our 'C' litter pups
were entered into their first 'show'.....
The GSD Jed Walker Memorial show
at Long Eaton on Sunday 31st July 2011.
We also entered 'Jed' and 'Lexi' in adult classes.
We are happy to report the results below-:
Ancahz Baretta

(Lexi) - Best in Show (standard coat)

Arkashan Fanto at Anchaz

(Jed) Reserve Best in Show (standard coat)

Anchaz Charisma

(Brodie) 1st Puppy in Memorial Class.

Anchaz Cinna

(Cinna) 2nd in Minor Puppy.

Anchaz Charisma

(Brodie) 4th in Minor Puppy

Ancahz Countach

(Esta) 5th in Minor Puppy and 1st in Junior Handler.
GSD Rally Aug 11
Arkashan Fanto at Anchaz

(Jed) Best in Show (standard coat)

Anchaz Baretta

(Lexi) Reserve Best in Show (standard coat)

Anchaz Countach

(Esta) 1st in Minor puppy

Anchaz Cinna

(Cinna) 4th in Minor Puppy

Anchaz Cinna
has continued her success in the showring with many wins and places at shows across the country and also being placed in the Pastoral Groups.......she is now training for working trials having demonstrated a very strong drive in this discipline.........we are hopeful that she will also be a successful working trial dog in the coming months and years!